What Does LISTSERV Mean to You?
UMD Career and Internship Fair Attendees Respond; Now It's Your Turn
See What Attendees Said - (1 of 10)

See What Attendees Said - (2 of 10)

See What Attendees Said - (3 of 10)

See What Attendees Said - (4 of 10)

See What Attendees Said - (5 of 10)

See What Attendees Said - (6 of 10)

See What Attendees Said - (7 of 10)

See What Attendees Said - (8 of 10)

See What Attendees Said - (9 of 10)

See What Attendees Said - (10 of 10)
Two weeks ago, L-Soft staff invaded the University of Maryland Career and Internship Fair, armed with postcards, pens, t-shirts and bags while on a recruiting mission. This was familiar turf for L-Soft with three alumni on staff.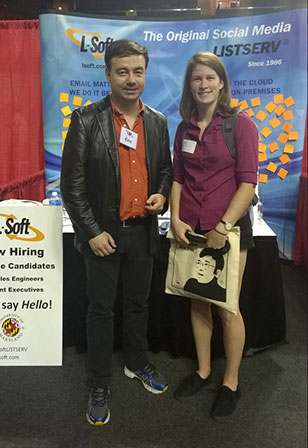 The University of Maryland is also among the earliest LISTSERV adopters, dating back at least 27 years, with more than 800,000 LISTSERV list subscriptions today.
CEO and LISTSERV developer Eric Thomas was there to shake hands and take photos with students visiting the L-Soft booth.
Over the course of the two-day fair, L-Soft team members asked visitors the simple question:
"What does LISTSERV mean to you?"
Attendees wrote their answers on orange sticky notes, which were displayed on the L-Soft exhibit panels.
A total of 147 participants shared their responses, with answers varying from "Free Pizza," to "Neighborhood Watch," to "Mass info fast & fluid," and many more. It was clear that millennials appreciate email as the powerful communication channel that it is.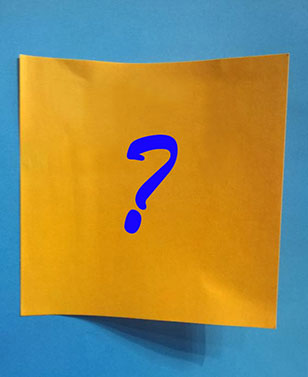 Overall, L-Soft staff enjoyed meeting LISTSERV list subscribers in person and making connections with students. We just have one question to ask you:
"What does LISTSERV mean to YOU?"
Send your one-sentence answers to editor@lsoft.com or post your responses to social media and tag L-Soft and hashtag #LISTSERV. As a thank you, we are happy to send you your very own LISTSERV tote bag, t-shirt or pen.
To see more photos from the University of Maryland Career Fair visit, L-Soft on Facebook.
Follow us on social media:
---
LISTSERV is a registered trademark licensed to L-Soft international, Inc.
See Guidelines for Proper Usage of the LISTSERV Trademark for more details.
All other trademarks, both marked and unmarked, are the property of their respective owners.